You're Fined!
This article would have been in defense of Naomi Osaka's choice to not talk to the media during Roland Garros; it still is, but as things have developed over the last week it becomes something more.
Naomi – as those that follow the tennis world know her – is known to be an introvert. This gives her great poise during tennis matches as she uses the energy she draws from herself – rather than those around her – to battle for every point without putting on a show. It also means that she's somewhere beyond "shy" (different from being an introvert) if you make her talk. On the other hand she uses her platform as the second-ranked female tennis player in the world to advocate for social justice, and uses her voice well when not compelled to.
The issue that arose this week is that Naomi Osaka, like other tennis players and athletes, are compelled to talk. Naomi has learned to talk, as people who've watched her rise in the sport know – after the match during an on-court interview. It is the press interviews that Osaka said she wouldn't participate in during this tournament. If you look on threads of comments on the internet you'll find that nobody watches a press interview, and no one outside the media cares about a press interview.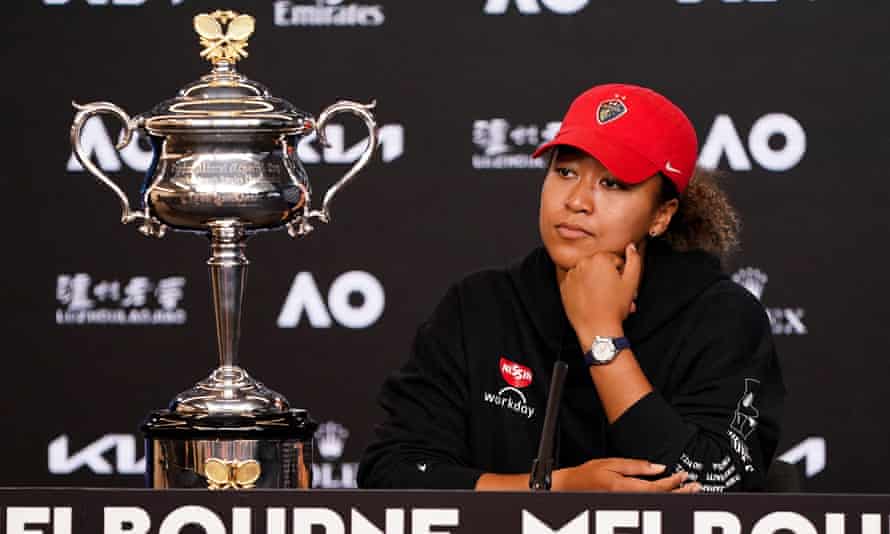 Naomi knew, of course, that in declaring that she wouldn't talk to the press during the tournament – required after every match, of which of Osaka may have won several – that she'd have to pay a fine. What she didn't know – nobody expected it – is that Roland Garros, along with the other three Grand Slam tournaments threatened to default her and ban her from future tournaments if she continued to not talk to the press. So Osaka, the number two player in the world, decided it was better for everyone that she drop out of a Grand Slam. Good move, tennis!
In her decision to withdraw, Osaka cited depression and mental health issues brought on on by the media. Read that again – she withdrew because of depression and mental health issues brought on on by the media. (Osaka expressed that the fine she knew she would have to pay go to supporting mental health). Not long after compelling to Osaka to withdraw by threatening her with a ban from the sport – good move, tennis! – Roland Garros and the other Grand Slam's said they're sorry that players have mental health issues and they'll be happy to work with players.
I won't make light of mental health – Osaks's original statement on social media that she wouldn't talk to the press during this tournament was made at the end of Mental Health Month – but this issue goes beyond mental health and depression.
The app for Roland Garros has very little news about Osaka's withdrawal – only a statement by the head of French Tennis (he read the his statement to the media and walked away without taking questions) about how sorry he was she chose to withdraw. The internet itself has a lot to say -ranging from "she signed as contract, so she must talk to the media" to "take care of yourself; your mental health comes first". The media itself has recognizes a few things beyond the standard AP article of "Osaka Withdraws" (not the actual headline that I'm aware of). The players no longer need the press conferences – the idea is for the media to be able to share with the world news about the players, and the players have their own platforms with all forms of social media. Tennis is a very lonely, individual sport; some articles said it's draining on the psyche. Asking players to justify their shot choice – win or lose – does not help the mental health, or psyche, of the player. As Okaka pointed out, it brings a lot of doubt into the players' mind. Then their are the questions the media asks, which are generally gotcha questions or sometimes race-based or about the player's sex life.
Some commentators of the media are aware of the negative effects the media has on players. Many of the players, both in tennis and beyond, are supportive of Naomi (one has to wonder how many tennis players saying "take all the time you need would just rather not have one of the best players in the sport in the game). What matters in the end is whether other players support Naomi with actions and not just words, what the media itself will do to stop ruining the mental health of players – as one person pointed out, if they were physically hurt everyone would understand – and what tennis itself wants itself to be.
This is has been a sad episode in the history of tennis.