A49 – Climate Justice in Germany
A planned motorway extension through the Dannenröder forest, north of Frankfurt in Germany, "pits the autobahn against 250-year-old oak trees" in the British words Phillip Oltermann of The Guardian. The Germany government, which has claimed to be a leading force in climate justice in Europe is looking to chop down the trees – a natural and essential defense against climate change – to expand "dual carriageway" A49.
Carola Rackete, a prominent activist and member of the German refugee rescue organization Sea-Watch, who has joined the protests, said on Twitter that the German government is in one breath promising biodiversity and in the next chopping down old-growth forests.
For the last year activists – that is, people who are acting because they believe that the environment is important – have occupied the forests and have built "barricades, treehouses and makeshift platforms," which the police destroyed this week, as loggers began destroying the forest.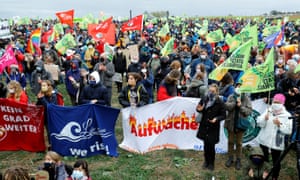 Although masked activists stated things such as 'we have sadly failed to stop the clearing, because there were too few of us,' Oltermann says that protests have increased since Friday – that is is, within about the last 72 hours – "with activists temporarily occupying the Hessian state representation's offices in Berlin on Friday, and about 300 cyclists closing down a section of the south-bound lane of the A49 on Saturday."
The expansion of A49, Oltermann continues, is not expected to begin until September 2021, and police are expecting 'long-term resistance' against the "infrastructure project".
This is not the first "infrastructure project" that some of the same protesters have engaged in. Oltermann adds that "some of those protesting against the felling at Dannenröder were also involved in demonstrations two years ago at Hambach forest, a stretch of ancient woodland in North-Rhineland Westphalia that was due to make way for a coalmining project."
Of course, the company in charge of the A49 "infrastructure project," Deges, says its project is essential to relieve congested roads and does not pose an existential threat to the stretch of woodland. That's right, chopping down more than 65 acres of old-growth trees poses no threat to woodland. Although Deges says it will replant the forest, there is no replacing old-growth trees.
While this reality is disheartening to anyone who admires trees and appreciates clean air and a healthy climate – even if they don't connect the dots that trees help generate clean air and a healthy climate – the protests and activism itself is not disheartening.
The protest against A49 has been a long, sustained, protest going on for more than a year with no plans to let up over the next year in which Deges believes that it should carry on with its "infrastructure project".