On Nonviolence Day – What the Media and the Education fail to mention
Hopefully everyone knows the basic story of Mohandas Karamchand Gandhi. The United Nations describes him as the "leader of the Indian independence movement." He was was also a "pioneer of the philosophy and strategy of non-violence."
Born October 2, 1869, the Galtung Intitute for Peace Theory and Peace Practice says that Mahatma, as he became known, was born into a caste of privilege in India. After law school in Britain Mahatma found a job in South Africa in 1893, where he lived until 1916. He saw and experienced apartheid and the oppression of racial "Others".
When he returned to India in 1916 "Gandhi developed his practice of non-violent civic disobedience still further, raising awareness of oppressive practices in Bihar, in 1918, which saw the local populace oppressed by their largely British masters," the Galtung Institute says in its biography of Gandhi.
Gandhi was assassinated in 1948 after years of nonviolence resistance and advocating for freedom from foreign rule.
These are the basic facts we learn in K-12 education as well and college. What the educational system doesn't tell us is at least as interesting as what it tells us.
At the end of the biography by the Galtung Institute it correctly says that
"Gandhi's life and teachings have inspired many liberationists of the 20th Century, including Dr. Martin Luther King in the United States, Nelson Mandela and Steve Biko in South Africa, and Aung San Suu Kyi in Myanmar."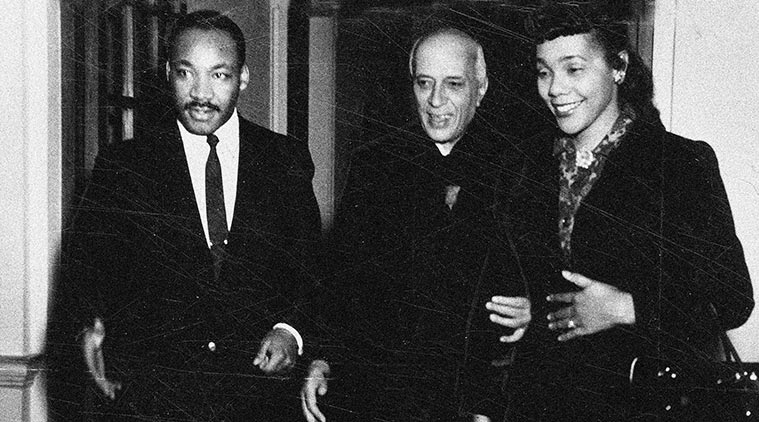 The Galtung Institute does introduce at the beginning of it's biography that Gandhi's idea are not original, but rather that "his mother's religious devotion meant that his upbringing was infused with the Jain pacifist teachings of mutual tolerance, non-injury/killing of living beings (ahimsa), and vegetarianism."
I'll focus on the strong connection that the Civil Rights movement in the United States had with India and Gandhi's practices of nonviolence. K-12 and college education managed to gloss over and skip the idea that movement are connected, and that MLK Jr. and and many civil rights leaders went to Inidea learn about nonviolence.
These same nonviolent tactics – which are much more successful than violent tactics – are used in current issues, ranging from Black Lives Matter, to Sunrise and other environmental movements, an If Not Now When's actions for Palestinian rights and human rights in general.
The news clips, which are just blips that happen every day and pass us by, tend to fail to mention that things are connected and that we are in fact in this together learning from one another across oceans.
Today, October 2, a hundred and one years after the birth of Gandhi, we celebrate International Day of Nonviolence in Gandhi's honor and we learn from other struggles in order to to remember that we are in this together.
Happy International Day of Nonviolence!